Our Story
The Airflow Story
We know HVAC, we are Uniquely Airflow
---
Airflow Engineering (SI) Ltd, known simply as 'Airflow – The HVAC Shop'. We are a Christchurch based independent supplier of Heating, Ventilation, Air Conditioning and Air Movement products. At Airflow - The HVAC Shop, we believe in a better way of conducting a business, a more valuable way, where customers are earned rather than bought. We're obsessively passionate about this, the foundation for our company is very simple. To treat people like we would want to be treated, with friendliness, patience, and respect.
Our success is not only due to the quality of our work; it's down to our attitude, our approach and the way we treat our customers. We are small enough to take personal pride in every job and agile enough to take on projects of all sizes. Our culture, enthusiasm and knowledge in the HVAC industry gives our customers assurance to rely on us.
With 30 years' experience, we have grown to be a trusted family-owned HVAC product & design provider for the whole of New Zealand.

Our Founder
"Dere

k Thompson HEVAC Sales" was founded by Derek Thompson in 1988, selling filters and heating elements. Rebranding to Airflow Engineering (SI) Ltd in 1992, Derek's industry expertise led relationships with customers and suppliers we continue to work with to this day. Derek started this company on a handshake, this tradition is continued on, even in today's market.
May 1994 Derek lost his fight to cancer, a huge blow to the family and business. Taking ownership of Airflow, Derek's daughter, Cherry, has since, along with family & friends established Airflow firmly in the marketplace, rebranding to Airflow - The HVAC Shop, making Airflow known as a dependable one-stop HVAC Shop.

Our Growth
Cherry's husband Kevin, joined Cherry as a director in 2003, managing the warehouse and manufacturing flexible duct and grease filters. 2021 Chris, Cherry & Kevin's youngest son took the opportunity to become part owner, the 3rd Generation continuing his grandfather's legacy. Chris has been instrumental in setting up the sheetmetal workshop and building our KoolDuct CNC machine. This changed our strategy and direction, now Airflow - The HVAC Shop can include sheetmetal & plenum manufacturing to our strengths.
Airflow - The HVAC shop has become more family oriented, Eryn, Chris's wife is our Administrator. Alex, Cherry & Kevin's oldest son joined the company in 2023. This generation will have a leading role in shaping a successful future

Our Workplace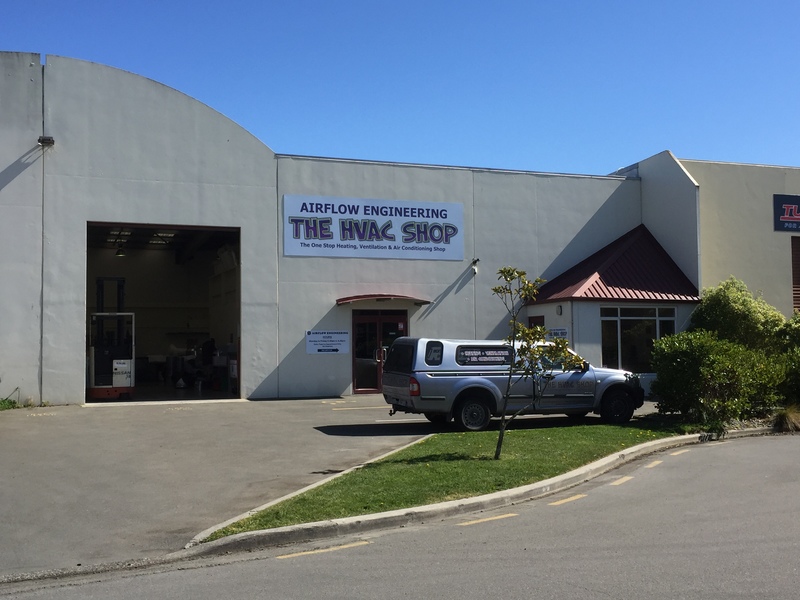 You will find us at Unit 2, Langstone Lane, (off Langdons Road) We have been here at Langstone Lane since May 2018 Langstone Lane is a community that we love being part of, there is a synergy between us and other lane tenants.
We are bursting at the seams with machinery and stock, with machines on wheels and a few layout changes we love our workplace. There is good off-street parking. We have a small showroom, coffee to go, and a full lollie jar. We're here to create a space where everyone's welcome.

Our Approach
"A customer is the most important visitor on our premises, he is not dependent on us. We are dependent on him. He is not an interruption in our work. He is the purpose of it. He is not an outsider in our business. He is part of it. We are not doing him a favour by serving him. He is doing us a favour by giving us an opportunity to do so." – Mahatma Gandhi