Heat Transfer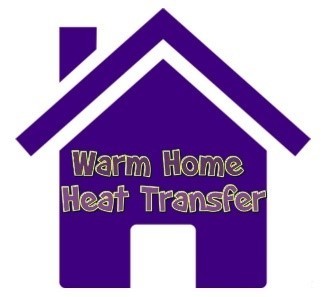 Airflow "Warm Home" Heat Transfer Systems allows full use to be made of the many effective and economical heating systems, now available on the market. The hotter the air that leaves a heating appliance, the lighter it is. So hot air quickly rises and hovers where it does little good. Airflow Heat Transfer is the answer to a lot of household heating problems, by taking the chill off cold bedrooms and creating an airflow and warmth that in turn, reduce the likelihood of condensation and dampness.
There are several ways air transfer kits can be used. Some situations can be fairly straight forward while other situations may require further products to ensure that the right outcome is achieved for the individual customer's requirements.
That is why we at Airflow - The HVAC Shop have a wide range of products available to custom tailor your individual system to your personal needs and satisfaction.
Ducting fitted with a fan can be used to transfer warm air from a heated room to unheated parts of a house. This system is termed a "heat transfer system".
By connecting a heated living area with a bedroom a heat transfer system enables residual heat from the heated room to be passed to the bedroom. A heat transfer system can also be used to improve the warm air circulation throughout a home.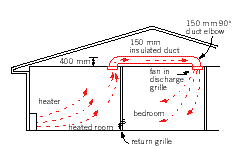 Heat transfer systems can be installed in a number of ways. They are useful in transferring heat from one end of the house to another and from one room to an adjacent room. Where warm air from a downstairs heat collects upstairs, a heat transfer can be used to help bring the warm air back downstairs.
Choose from our standard kits, and accessories, or have a kit designed around your specific needs.
Although a Heat Transfer Kit is designed to move heat, there will be a temperature drop in the process. It should be remembered that you require your rooms to be comfortable, hence the Heat Transfer Kit is designed to warm the rooms rather than make them hot.
FREQUENT QUESTIONS

1: How many rooms can heat be transferred to?
Airflow – The HVAC Shop has designed a Warm Home System to transfer heat to four rooms, although we size our fans and ducting to use your requirements, five rooms would be about the limit of efficiency.
2. Can extra ducting be added to transfer system?
We recommend that extra ducting is not added to a specified kit inventory, as these systems have fans to suit the measurement of ducting included in the systems. For best results, we would prefer to design and offer a fan to suit your requirements.
3. Does the system heat up the bedroom to the same temperature in the living room?
Although Airflow Warm Home Heat Transfer Systems are designed to move heat, there will be a temperature drop in the process. It should be remembered these systems are most effective at providing background warmth for rooms not normally requiring constant heating, such as bedrooms.
4. Is it possible to duct to an up stairs area?
It is possible to duct up and down. Depending on the application, moving heat up occurs naturally and with the help of the in-line duct fan the hot air will move downwards just as effectively.
5. How much power do the Airflow Warm Room Systems use?
Power consumption for the one room kit is a low 40W; this is equivalent to half the power consumption of an average sized light bulb. The two room system uses up to 80W, the three room system up to 110W and the four room 145W.
6. Where should the fan be located?
The fan may be located in any section of the ducting, but before any 'Y' branches. Try to locate the fan as far away from quiet spaces as practical.
7. How does the thermostat work?
The thermostat is installed in the heat source room. Set the required temperature you wish the fan to turn on to transfer the heat, when the air at ceiling level reaches this temperature the Heat Transfer System will automatically switch on.
8. Is it possible to close off heat to one or more rooms?
All the kits come with fully adjustable outlet grilles that can reduce or even shut off air to one or more rooms.
9. Is it necessary to suspend the fan?
Since all fans make slight vibrations while running, it's advised that you not mount the fan on an inflexible wooden or metal structure. As an alternative, try hanging the fan from straps or bungee cords or laying it atop or cradling a rubber or felt mat. It is recommended that a registered electrician wire the fan.

10. There are cheaper Heat Transfer Systems available, why is this?
Airflow – The HVAC Shop design systems that suit the system resistance, the fans are powerful and reliable; ducting is insulated to reduce heat loss. Airflow – The HVAC Shop will design a system for your needs, not just supply an off the shelf unit.